Language courses and integration courses
Language courses and integration courses
The highest customer satisfaction of the Netherlands
Learn a new language in an optimal way
Honest
You can stop your course whenever you want. We'll never let you pay for lessons that you did not receive.
Guaranteed high-quality
All of our teachers are certified, and our school fulfills the requirements of the "BlikOpWerk" certificate.
Personal
We work with small groups of 6-8 students. With us, you are in direct contact with the management.
Custom made courses
We compose your course based on your level and your wishes.
99% of our students pass the integration test
High quality education
Learn a new language at the highest rated language school of the Netherlands
Our goal is to let each student learn a language in a fun and efficiënt way. Thanks to our full commitment, our school has been rewarded with the highest customer satisfaction of the Netherlands according to the "BlikOpWerk" quality label.
Our courses consist of private lessons, group lessons and language practice lessons. All teachers are certified and the school has the integration quality mark, which enables us to guarantee quality.
Whether you want to live abroad or just live in the Netherlands, or whether you are at the beginner or advanced level, we'll make sure you'll learn your desired language of quickly and efficiently as possible.
Get an impression Fairfield College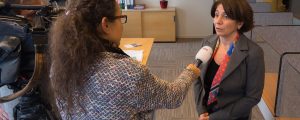 Last week there was an item on the NOS news about the problems of the current integration system in the...
\"(..) I would also like to thank you and our wonderful teacher Ella for the support and the effective teaching methodology used to ensure that we would pass our exams. The guidance and preparation leading to the exam was very professional. I would also like to thank the both of you for the motivation and confidence you have showed in out capabilities. The secret to success = good teachers -> happy students -> positive results :)\"
- Shaun, 41
\"Fairfield College is the best school of languages!\"
- Abdi Fatah, 19
Our school is a 5-minute walk from Hilversum Central Station.